Reviewed by David M. Kinchen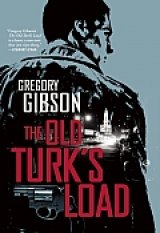 If you miss the caper novels of the late, great Donald E. Westlake, take heart: Gregory Gibson's debut novel "The Old Turk's Load" (Mysterious Press, 288 pages, $24.00) will appeal alike to neo-noir fans and fans of Garrison Keillor's Guy Noir character.
The novel  falls into a specialized genre within a genre of a historical mystery because it takes real events, like the Newark riots of July 1967 to move the plot along, in this case the theft of a large quantity of heroin from a customized 1967 Porsche sports car being imported from Europe, a la "The French Connection."
 Angelo DiNoto is the most powerful crime lord in New Jersey, his empire bolstered by importing pure heroin courtesy of the poppies grown by an old Turkish farmer, hence the title "The Old Turk's Load."   when a five million dollar shipment goes missing during the riots and ends up in the hands of real estate developer and slumlord Richard Mundi, DiNoto  isn't the only one willing to turn over every rock and commit mayhem  to locate it.
Mundi  sees the heroin as the key to replenishing his fading business with new capital. His daughter, Gloria, is literally in bed with a band of wannabe revolutionaries, and sees the heroin as her ticket out of her meek boyfriends arms and away from her fathers looming shadow. "The Mailman" is a longtime Gloucester, Massachusetts postal clerk who has seen it all—until throat cancer robs him of his voice and the will to live—and thinks finding the drugs is the perfect cap to a failed life.
"Walkaway" Kelly is a punch-drunk P.I. hired by Mundi to tail Gloria, but when he uncovers the mysterious circumstances surrounding the death of Mundi's wife, he'll do anything to uncover the truth. People in love with words will adore the name "Gloria Mundi" as in "sic transit", not to mention her mom Agnes Day Mundi. Just think back to your Latin class or knowledge you've absorbed in reading.
There's a Northeastern mega blackout in the novel reminiscent of the November 1965 one, but Gibson has moved it to the summer of 1967. This is fiction, after all.
If you've long suspected the middle class white protesters and bombers and robbers of the 1960s, — of the kind glorified by Robert Redford in his new movie "The Company We Keep" — were riddled with FBI informers, Gibson confirms that view with his portrayal of Gloria's group of characters that Richard Mundi hires Kelly to investigate. Richard wants his daughter to succeed him as president of his company, not blow herself to pieces making bombs in her Greenwich Village apartment.
You can only express admiration the way the disparate cast of characters bring things to a clashing, bullet ridden conclusion in "The Old Turk's Load."
About the Author
Gregory Gibson has been an antiquarian book dealer since 1976. He has published three non-fiction books and writes an influential weekly blog on the book trade called "Bookman's Log." He has homes in Gloucester, Massachusetts, Cork City, Ireland, and Cape Breton, Nova Scotia, but in his imagination he inhabits an undiscovered Raymond Chandler novel somehow set in Manhattan in the 1960s.