Reviewed by David M. Kinchen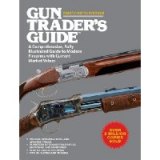 If there is one must-have book for every firearms owner — including the present reviewer who is a member of the National Rifle Association and the Texas State Rifle Association — it's "Gun Trader's Guide, Thirty-Fifth Edition: A Comprehensive, Fully Illustrated Guide to Modern Firearms"  (Skyhorse Publishing, 608 pages, $29.95).
Fully illustrated and superbly edited by Stephen D. Carpenteri and published by Skyhorse for the last few years since the demise of former publisher Stoeger, this is the indispensable price guide for people who buy, sell and trade firearms. And that includes everybody who is a target shooter, hunter or gun collector. All gun owners owe a debt of gratitude to Tony Lyons, publisher of Skyhorse Publishing Inc. in New York City, for continuing this book, "The Shooter's Bible" and other firearms publications.
The 35th edition boasts new entries since last year's edition and includes a complete index and a guide on how to properly and effectively use this book to find the market value for your collectible modern firearms. There are more than 2,750 illustrations, so the chances are very good that any collectible firearm you own — or want to own — is in this guide.
I noticed that my most recent handgun, the Taurus TCP .380 ultracompact autoloader, Model 738,  is not included. That's logical, since it's a newly introduced gun. Older Taurus guns are included in this guide, and the Taurus TCP, an excellent choice for concealed carry, is illustrated and described on Page 377 of "The Shooter's Bible, 105th Edition," which I will review in a few days.
Carpenteri provides all the information you'll need to determine the new in box (NIB), excellent and good condition (based on the NRA grading system) prices of firearms you have or are looking at. Handguns, rifles and shotguns are all included in the book.
This is a book every gun owner should have, along with "The Shooter's Bible." Thanks again, Tony Lyons, for your efforts to keep the famous Stoeger books alive and well!
About the Editor
Stephen D. Carpenteri has been shooting and hunting for more than fifty years and has been writing about firearms and ammunition since 1975. A handloader, target shooter, and all-round gun buff with experience in all aspects of firearms usage, Carpenteri is an avid gun collector and long-time user of the Gun Trader's Guide.
Publisher's web site: www.skyhorsepublishing.com