Reviewed by David M. Kinchen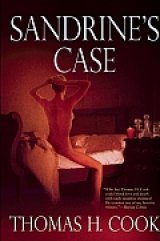 Happy families are all alike; every unhappy family is unhappy in its own way. — Leo Tolstoy, opening sentence of "Anna Karenina."
One of the joys of book reviewing is discovering a new — to the reviewer — author at the height of his or her powers. It's also a source of frustration when the reviewer discovers the author has been around for a long time! The situation is unavoidable because one person — even a voracious reader like the present reviewer — can read only so many books.
I  found myself on the horns of this dilemma when I read Thomas H. Cook's wonderful genre-breaking novel, "Sandrine's Case" (Mysterious Press, 352 pages, $24.00) focusing on the trial of Professor Samuel Madison,  indicted for the death of his beautiful wife, Sandrine Allegra Madison. The case illustrates  what Sam Madison's lawyer, Mordecai "Morty" Salberg calls a perfect example of the hoary legal cliché that a clever prosecutor "can indict a ham sandwich" if he has a mind to do so. And Coburn County Prosecuting Attorney Harold Singleton  definitely has a mind to see that Sam goes all the way to death row, despite a case that's flimsy at best.
Morty, the self-described "smartest Jew lawyer in Coburn County", is one of many vividly drawn characters in a novel that I see breaking down the artificial walls between "mystery" and "literary" novels. Cook is primarily known for his almost two dozen mystery novels, but he's written literary works, including 1986's "Elena." As long-time readers of my reviews know, I detest the grouping of works of fiction into popular and "literary." Labels — as a friend of mine has long noted in the context of political matters — are for wine  and medicine bottles.
Sam and Sandrine are both tenured professors at Coburn College, a small liberal arts college 70 miles south of Atlanta. Sandrine teaches history and Sam teaches literature. They have a  daughter, Alexandria — not Alexandra — a journalist in New York. His daughter wants to believe that Sam isn't a murderer, that Sandrine committed suicide with pills and alcohol after she learned she was afflicted with ALS, better known as Lou Gehrig's Disease. Alexandria wants to believe in her dad's innocence, but there is a shadow of a doubt. The case has attracted worldwide media coverage because — as Sam explains to his daughter — death involving intellectuals, especially when the victim is a beautiful woman,  is red meat to newshounds.
Even though it's a college town — perhaps especially because it's a college town —  many Coburnites are provincial to the core, suspicious of the intellectuals in their midst, people like Sam and Sandrine with messy houses loaded with books, classical and jazz records and other signifiers of culture. The teachers at Coburn College are viewed by the locals as overpaid and underworked, with summers off and observing all the holidays known to man.  Morty Salberg brings this point up when questioning witnesses about the often messy suicide sites they encounter. Still, the other suicides were locals, so they aren't relevant, in the eyes of the police, to the special case of Sam Madison. There's a particularly vicious hatred of Sam Madison in Coburn, perhaps magnified by the circumstances of his being the "Great White Defendant" in a jurisdiction where many, if not most,  of those indicted are minorities.
When Samuel Joseph Madison met Sandrine he was a meek, lanky graduate student from the Midwest at New York University. They meet cute in Washington Square, with the lovely Sandrine bluntly telling the startled Sam: "You're not very handsome…but you look very intense." That's about as cute as a meeting can be!
Once married, they accept  teaching positions at Coburn College because they were able to teach their subjects in the same place, as good a reason as any in a world where college teachers face employment rejection.  Cook deftly describes the tensions the two experience in their marriage, with Sam telling Sandrine several times that she could have been working on her book about Cleopatra, to which she replies "I am my book." In turn, Sandrine reminds Sam that when they met he mentioned the novel he was working on, an unrealized dream book.
I know novelists hate to be compared with their peers, but I'll go ahead and do it anyway: "Sandrine's Case" is as good as anything written by Scott Turow and John Grisham. If you like the work of these two lawyers turned novelists, you'll enjoy this novel by a book reviewer turned novelist.
 About the author
Thomas H. Cook, born 1947 in Fort Payne, Alabama,  is the author of nearly two dozen critically lauded crime novels. Cook published his first novel, "Blood Innocents", in 1980 while serving as the book review editor of Atlanta magazine. Two years later, on the release of his second novel, "The Orchids", he turned to writing full-time. Cook published steadily through the 1980s, penning such works as the Frank Clemons trilogy, a series of mysteries starring a jaded cop. 
He found breakout success with "The Chatham School Affair" (1996), which won an Edgar Award for best novel. His work has been praised by critics for his attention to psychology and the lyrical nature of his prose. Besides mysteries, Cook has written two true-crime books, "Early Graves" (1992) and the Edgar-nominated "Blood Echoes" (1993), as well as several literary novels, including "Elena" (1986). He lives in New York City.
Cook's website: http://www.tomhcook.com  
Publisher's website, with more about Cook: www.MysteriousPress.com