Reviewed by David M. Kinchen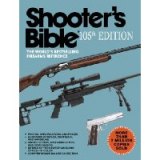 In my review of "Gun Trader's Guide" (link:http://www.huntingtonnews.net) I said that this reference book from Skyhorse Publishing is one book every gun owner should have.
The other must-have book  is "Shooter's Bible: The World's Bestselling Firearms Reference, 105th Edition (Skyhorse, 608 pages, $29.95)   by Jay Cassell.
 The numbers speak for themselves: With more than seven million copies sold, this is the must-have reference book for gun collectors and firearm enthusiasts of all ages.
It's a comprehensive guide to currently available firearms — as well as for guns no longer made but still available. With 275 color photos and 1,000 black and white photos, it deserves that subtitle. Gun owners and users should be grateful to Tony Lyons of Skyhorse Publishing for continuing to publish this book after Stoeger decided to stop publishing after it was acquired by Beretta of Italy.
Published annually for more than eighty years, the Shooter's Bible is the most comprehensive and sought-after reference guide for new firearms and their specifications, as well as for thousands of guns that have been in production and are currently on the market. Nearly every firearms manufacturer in the world is included in this renowned compendium. The 105th edition also contains new and existing product sections on ammunition, optics, and accessories, plus newly updated handgun and rifle ballistic tables along with extensive charts of currently available bullets and projectiles for handloading.
Along with the traditional feature on the newest products on the market, readers of "Shooter's Bible" get full coverage of the fiftieth anniversary of the iconic Remington Model 1100 and the 140th anniversary of the Winchester Model 1873, one of the most significant firearms ever introduced. With  color and black-and-white photographs featuring various makes and models of firearms and equipment, the Shooter's Bible is an essential authority for any beginner or experienced hunter, firearm collector, or gun enthusiast.
I use both books regularly and cannot recommend them too highly. You must have both of these books!  
About the Author
Jay Cassell, editorial director at Skyhorse Publishing and the editor of this compendium, has hunted all over North America. He has written for Field & Stream, Sports Afield, Outdoor Life, Petersen's Hunting, Time, and many other publications, and has published eight books. He lives in Katonah, New York.