Reviewed by David M. Kinchen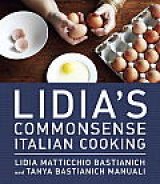 Some cookbooks are so beautiful, with great photography, outstanding editing, that you might be tempted to keep them on the coffee table (does anyone have coffee tables these days?) and away from kitchen hazards.
This description might apply to "Lidia's Commonsense Italian Cooking:150 Delicious and Simple Recipes Anyone Can Master" by Lidia Matticchio Bastianich and Tanya Bastianich Manuali (Knopf, 304 pages, with 63 full color photos by Marcus Nilson, $35.00).
I'm tempted to say Nilson's photos are worth the price of the book, but this is a real cookbook, suitable for cooks of all skill levels. Lidia writes that if you don't have the exact ingredients specified in the recipe, IMPROVISE! That's probably what skilled chefs do anyway.
In her beautifully illustrated new cookbook, Lidia Bastianich lays out a comprehensive curriculum of wise cooking tips — from the cutting board to the kitchen table. Channeling the instructive elements from her TV show of the same name, she teaches us that a good dose of common sense is the key ingredient to a stellar meal. As storyteller and chef, she draws on anecdotes to educate and illustrate. Recalling lessons learned from her mother, Erminia, and her grandmother Nonna Rosa, Lidia pays homage to the kitchen sages who inspired her.
Whether it's Citrus Roasted Veal, or Rustic Ricotta Tart, each recipe is a tangible feast. We learn to look at ingredients as both geographic and cultural indicators. In Campania, the region where mozzarella is king, we discover it best eaten three hours after preparation. In Genova we are taught that while focaccia had its basil origins in the Ligurain culinary tradition, the herbs and flavorings will change from region to region; as home chefs, we can experiment with rosemary or oregano or olives or onions! When it's time for dessert, Lidia draws on the scared customs of nuns in Italian monasteries and convents and reveals the secret to rice pudding with a blessing.
"Lidia's Commonsense Guide to Italian Cooking" is a collection of 150 delectable recipes — told with commonsense cooking wisdom — teaching us how create simple, seasonal Italian dishes with grace, confidence and love.
I'm not much of a cook, beyond my salads, making muffins (something I've added to my skill set, such as it is) but I was tempted by many of the recipes in this beautiful book to try my hand. I'm guessing that many readers will go and do likewise.
This is not my first exposure to the delightful writing team of Lidia and Tanya; on Nov. 23, 2009, I reviewed "Lidia Cooks from the Heart of Italy":
http://archives.huntingtonnews.net/columns/091123-kinchen-columnsbookreview.html
You might want to go to an online site and order that book, too!
About the Authors
LIDIA MATTICCHIO BASTIANICH is the author of eight previous cookbooks, five of which have been accompanied by nationally syndicated public television series. She is the owner of the New York City restaurant Felidia, among others, and she gives lectures on Italian cuisine throughout the country. She lives on Long Island, New York.TANYA BASTIANICH MANUALI received her PhD in Renaissance art history from Oxford University. In 1996 she started Esperienze Italiane, a travel company that arranges food, wine, and art tours to Italy. She also coauthors cookbooks with her mother, Lidia; manages Lidia's product line; and serves as the cultural and art consultant for the art series. She lives on Long Island, New York.
Publisher's website: www.aaknopf.com